There are many things I love about being a parent but as I pledged to always remain honest on this blog...there are some aspects I have an intense dislike for too! On occasion, I find that the love and hate overlap: what might make my heart soar one day, will more than likely send it plummeting to the floor the next (and no, that isn't only on days when I'm hormonal!)
So I thought it might be fun to collate a list entitled:
The Love to Hates of Parenting
1. School holidays. Having just completed half-term, this one is right up there for me. At the end of any school term, I cannot wait for lie-ins, less stress and homework free days but by the end I am longing for peace and quiet, with some time to myself. It's a strange phenomenon.....either that, or it just proves that I'm never happy!
2. Watching your kids grow up. It really is an incredible joy to watch the tiny little person that you created morph into something beautiful and amazing, but then a day arrives when you want to press the 'pause' button. Right now, my pause button is being hit more times than I care to admit - allowing my daughter to attend 'Foam Night' at the local ice rink on Friday, knowing that she wouldn't be home until 10.30pm was one of those moments!
3. Being needed. I love this aspect of being a parent, right from the first suckle of a newborn. But then somehow the needs become more intense and trickier to deal with; I begin to feel stiffled and at times, overwhelmed. Parenting really can be an exhausting set of demands on some days!
4. Being a kid again. Being a parent is an excuse to find your inner-child. I love to kick through leaves, make cupcakes, set up obstacle courses in the garden, jump on the trampoline, giggle at fart noises and squeal down a toboggan run...sometimes. And then there are days when the incessant giggling, toilet humour and childish remarks just become too much and I crave adult company like a drug.
5. Having an excuse. You know when you're invited to a party or social engagement that you don't really fancy and the old "can't get a babysitter" excuse comes in really handy? And then there's that event you so desperately want to attend and you actually can't get a babysitter. Yeah, that!
6. Constant companionship. I'm not a huge fan of my own company and thrive on being around people 24/7. Surely parenthood was made for me? Well yes and no. Sometimes I like to have a bath in peace, occasionally I enjoy nattering to my friend on the phone, without having a child hanging on my every word.....just me?!
7. Rising to the challenge. There's no bigger challenge in life than being a parent, and I really love this part! But sometimes I find the challenges just too big to handle and on those days, the ones where I feel like curling up in a ball and hoping it all goes away, I am glad that I have God to pick me up.
8. Being in charge. Okay I know this sounds like my kids are living under a dictatorship, but as I am a self-confessed control freak, being the boss of the proceedings comes naturally to me! Then there are the days when I wake up and wish that for once someone would tell me what to wear, where we are going today and what we are having for tea. And I know that some of you feel like this too, cos I've read your Twitter timelines!
9.
Routine.
I have mentioned many times on here that rules and routine are my friends. I feel comfortable knowing what's coming next and I think that most kids do too. Routine works well for us, on the whole. Occasionally however, these routines and rules are the very things which make me want to run for the hills screaming "
get me out of here!
" Only I'm not a celebrity and sadly there will be no
Ant and Dec
to rescue me...
Image courtesy of The Guardian
So come on lovely readers, tell me I'm not alone here. What would be your number 10 on the list?
Linking this post up with Sarah Miles' The Monday Club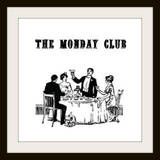 Pin It Now!