A few weeks ago, I signed up for a 2 hour course taking place at my daughter's secondary school. Seasoned blog followers will know that parenting courses are a particular past-time of mine and when spotting the title: 'Preparing for Teens', I signed up immediately!
In my vast experience of parenting courses, not all of the information is relevant and I've often found myself leaving the room, wondering if I've actually learnt anything new. Well not in this case! I learnt a wealth of information in just 2 hours, so much so that I thought I would share the top tips with you lovely readers:
1) Family rules - it's important to have these spelt out clearly so that everyone in the family sticks to them. It's no good ordering your children to "put their shoes and bags away" if your husband isn't doing it and neither are you! (hmmm, pulled myself up on this one!) Once made, rules must be stuck to and if not, the consequence should be clear and logical. If you can't think of a suitable punishment on the spot, you can bide your time but don't carry it into the following day.
We have found holding a
Family Meeting
very useful for us all to agree on rules - giving the children an opportunity to have their say and come up with a suitable consequence should they not be adhered to.
Image couresy of Psychology Today
2) Stop shouting! - I don't know about you, but my children don't seem to listen unless I'm shouting at them. Apparently, children only do this because they have learnt, by experience, that you only mean business when your voice is raised. How true is that?! So, the golden rule is: when you ask your child something in a calm voice and they don't do it, the consequence must be enforced immediately. That way, they will begin to learn that you mean what you say on the first command.
This has taken a while for my children to adjust to - I've had a lot of "that's not fair, I didn't hear you ask earlier"! But by introducing the rule (pre-agreed of course) that if I have to ask anything 3 times, 50p is docked off the weekly pocket money, they are beginning to learn fast - shouting has been less frequent (not erradicated altogether as that would just be weird!) and my bank balance is looking a lot healthier!
3) Emotional outbursts - this is from the Tween and not the parent! When their emotions are getting out of hand, the important thing is for you to stop and listen. Acknowledge their distress, don't interrupt the flow and always avoid being drawn in. It's important to tell them it is ok to feel that way and allow them to label their emotion. If the angst is being directed at you, then the advice was to suggest a cooling off period and re-visit the discussion later in the day, using the same tips. Always stay calm!
4) Encouraging them to talk - good communication and talking is important when parenting children of any age but as they get older, I think it becomes vital. You may, like me, have a child who struggles to talk and is naturally a very private person. The advice, in this instance, was to look for 10 minutes in every day to get alongside that child, just being present in whatever activity they are enjoying (even if it's watching Eastenders!). I know that 10 minutes sounds easy but actually, to make that undivided attention, what with after-school activities, dinner to prepare and 2 other children fighting for your attention, it isn't so easy. Eventually, your child will learn that this is the time when you are available if and when she wants to talk.
Are you parenting a Tween or maybe even a Teenager? Have you got any top tips for us parents who are about to enter the dreaded teenage years?!

Linking this post up with Sarah Miles at The Monday Club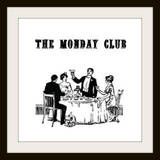 Pin It Now!