I usually try to be pretty positive on my blog. Even on days when a small moan is required, I attempt to finish on a positive note by focussing on what I've learnt. There comes a time in all of our lives however, when a rant is the only thing that will do. A rant for rant's sake.
A meme (a kind of bloggy chain letter, for those who aren't from the land of blogs) has been doing the rounds over the last few weeks. Sometimes I find memes an added stress to my life and I must confess to shoving a couple under the carpet as my list begins to grow. But when I was tagged by the lovely Sarah at
Mum of Three World
(here is her list of goat-getting offenders), to create a list of all the things that were getting on my nerves, I was delighted! Who hasn't got an infinite list of things that are winding them up?! So here goes......
1. Right up there in first place for me, has to be dog poo. Not dog poo per se (although it's pretty gross stuff isn't it?!) but the pile that has been left right in the middle of the pavement, outside the school gate, where every poor unsuspecting child and harassed mother is bound to tread on it. As you know, I own a dog myself, so I'm not preaching from an uneven platform here. If you are a dog owner, buy poo bags and make sure you have at least one in every available pocket or bag you posess. Simples.
2. Junk Mail. I'm not sure this needs an explanation really - it cloggs up the letterbox, jams the front door as you try to open it and fills 90% of your recycling bin. Enough already!
3. Christmas lights. Before you have me down as a bah humbug type, I will explain myself..... I enjoy Christmas, I like decorations and I even like a pretty simple string of outside lights to celebrate the festive season. The ones I do not like (but unfortunately my children adore) are the gaudy, tacky, unsightly ones displayed proudly on the front of houses from 1st November until 31st January - why people, why?!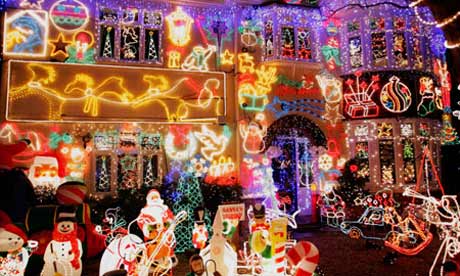 Image courtesy of The Guardian
4. Freshly washed and ironed clothes being put back into the wash bin. One particular child of mine is a regular offender of this and it really GETS MY GOAT!
5. Barking dogs. Ok this is my own dog I'm talking about here. This week has been the final straw for not only me but probably every person within a mile of our house! Whenever the pooch is let out into the garden he insists on making his presence felt and very loudly! In the interests of environmental health (and the one shred of goodwill we have between ourselves and our neighbours), I have decided to invest in a bark collar. Watch this space!
So those are my top 5 irritants of the moment. I'd love to hear what's getting your goat right now - go on, it's very therapeutic you know!
And before I sign off, I shall tag 3 other beautiful bloggers to find out their top offenders.
Freefalling into 40
Not So Super Scottish Mummy
The Oliver's Madhouse
Pin It Now!