Today's blog post is a little unusual for me and it's also a first! Before you watch the video clip, please let me explain....
As you will see from the title, this post is for our friend and fellow blogger, Emma at
Crazy with Twins.
I discovered Emma's blog around about the same time as I started mine - we were blogging 'newbies' together. Emma has thyroid cancer and is currently undergoing treatment. Having had the lump removed a couple of weeks ago, due to the size of it, she is now having to go into hospital for 5 days of intensive radiotherapy treatment. This is not the worst part....when she returns home, she will not be able to touch her children for up to 28 days (you can read her heart breaking post
here
) due to the severity of the radioactive treatment and the harm it may cause anyone she comes into contact with. Emma is mummy to 6 year old Bunny and twin girls of 9 months - imagine not being able to cuddle or kiss your babies for this long?
Understandably, Emma was distraught on hearing this news but determined to go through with it - for the sake of her children and to ensure that the cancer has gone, once and for all. Victoria over at
Vevivos
came up with the wonderful idea of supporting Emma through this period by putting together a bloghop. Each day a different blogger is hosting and everyone is welcome to link up any encouraging, funny or happy posts to help Emma know we are thinking of her.
My eldest daughter and I got our thinking caps on, trying to come up with an idea that perhaps Bunny would enjoy too. Please watch the clip right to the end (it looks like it has stopped halfway through but it hasn't), it's only 1 minute 30 seconds and The Teenager spent all afternoon editing it, so my thanks go to her and to 'It' for being a willing participant!
Get well soon Emma and keep fighting! x x
PS Amazingly, Emma is taking part in the Race for Life later this year (is there anything this girl can't do?!). If you would like to sponsor her,
here is the link
.
PPS Tomorrow I will be handing the baton over to
Mary at Keynko
so hop on over for more S2S2D posts and perhaps link one up yourself?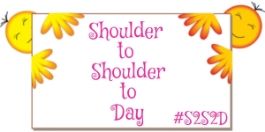 <div align="center"><a href="http://www.vevivos.com/2013/05/16/shoulder-to-shoulder-to-day-the-rota-and-details/" title="Shoulder to Shoulder to Day"><img src=" http://i1322.photobucket.com/albums/u568/ToriWel/811fe3d0-1420-4987-9719-6c146ee76adb_zps87798b9c.jpg" alt="Shoulder to Shoulder to Day" style="border:none;" /></a></div>